How to use the List Picker
Included for free in plans
VIP
PRO
BASE
With our Apple Business Chat integration, you can send custom lists to your clients so they can select a specific item of their choice before you send extra details about it. Existing lists can be used by all agents in your account, just like the Quick Phrases feature.
Create a List
To create a list in the List Picker feature, click the icon pointed in the image below to open the list of extra during-chat features for Apple Business Chat.
These features will only appear during Business Chat conversations
Go to the Lists menu and press "Add a list".
Upload an image (1; optional), a title (2), description (3), and insert a tag (4) for future easier identification of the list by your team. For each item on your list, add a description (5) and an image (6; optional). You can add as many items as you want on a single list. After you're done, press "Save" (8).
After creating the list, you can send it at any time during a conversation by pressing the menu to open the list of existing lists one more time and click the desired List to send it in chat.

The client will receive the list in their iMessage app and, after clicking on it, they'll will be able to see the full list of items and select a specific item from the list.
The agent in chat will receive a message notifying which item was selected by the client.
After seeing which item the client is interested in, you can use specific Quick Phrases or Rich Links created by you to send more info about the product/service selected.
Edit/Delete a List
To edit or delete a list, open the menu to check the existing lists and click the small edit button located at the lower right corner of each list.
Edit the list as you desire and press "Save", or click the "Delete the list" button to delete the list.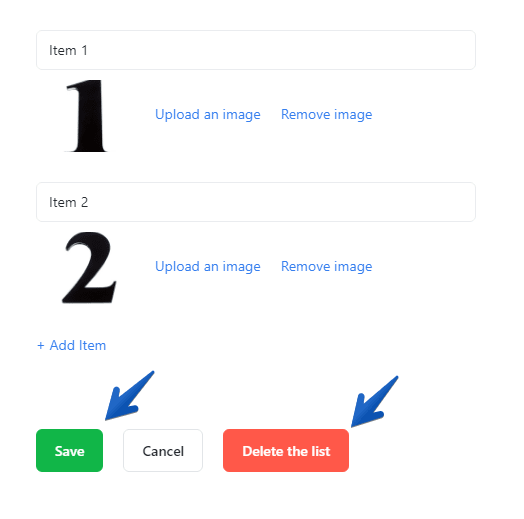 That's it!
Ask in the live chat, we are ready to help around the clock