How to hide the chat in specific days and times
Included for free in plans
VIP
PRO
It's possible to hide your chat in some specific times and days using triggers.
To set those triggers you need to access the JivoChat website, the desktop or mobile app and follow these steps:
Please go to Manage > Channels > Click on the Settings button of the channel:
Click on "Triggers" button and then on "Add action" button.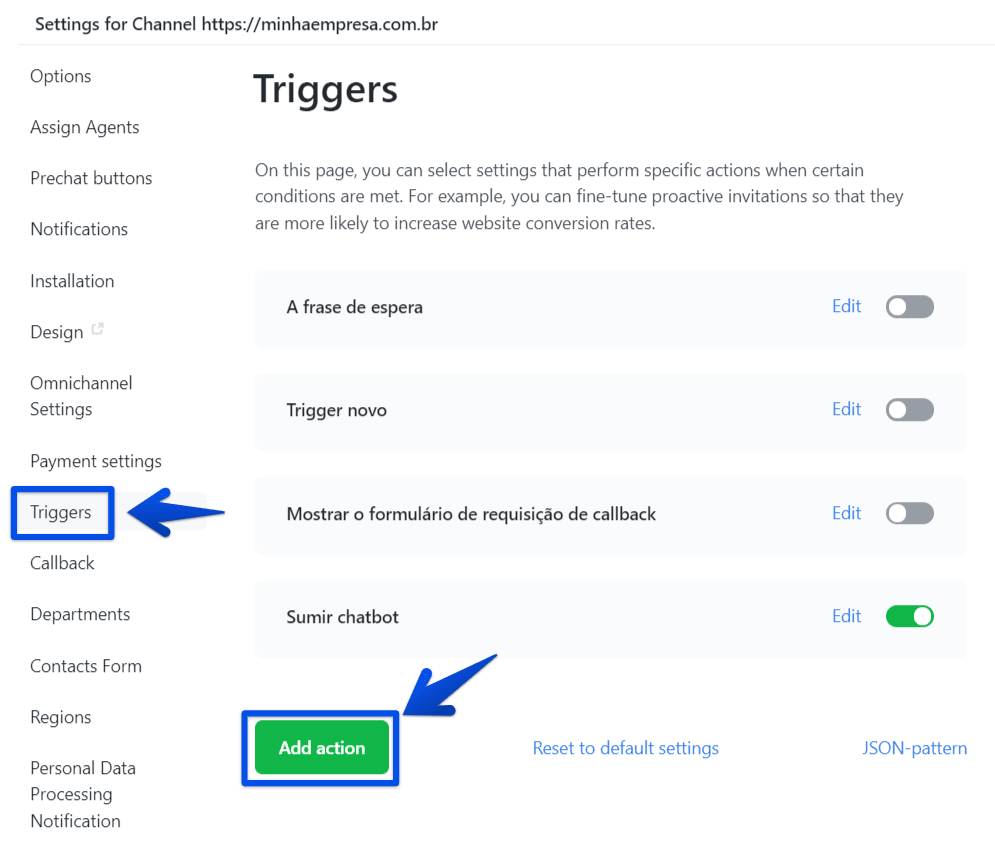 Add the desired action following the steps bellow to hide the chat during business hours.
Put a name or title for the trigger
Select "Any" for the conditions.
Add the condition "Hour of the day". This condition accepts just exact times and it's not possible to set minutes or seconds. Choose the sign "<" (less than) and type the time you want the chat appears in your website. In the example was configured the 08 a.m.
In case you want to hide the chat in specific days, choose the condition "Day of the week", the desired day of the week and use the sign "=" (equal to).
Add again the condition "Hour of the day", choose the signAdicione novamente a condição "Horário", escolha o operador "≥" (is greater than or equal to) and type the time after which you want the chat window to stop being displayed. In the example above, the time of 05 p.m. was placed.
Choose the action "Hide the widget" on the list.
Click on "Save" button.
Don't forget to verify if the action is activated.
Done! If everything is set up correctly, the chat will no longer be displayed within the period selected by you.
Ask in the live chat, we are ready to help around the clock