How to connect WhatsApp Business via Edna
Included for free in plans
VIP
IMPORTANT - Pre-requisites
To connect and use any WhatsApp Business integration, it's necessary to have your own registered company with valid registration data and documents. Otherwise, WhatsApp will not approve your request and will not allow you to integrate WhatsApp Business with any external platform. If you don't have a registered company, unfortunately it is not possible to connect your WhatsApp Business in JivoChat. Besides that, please note that this integration has extra costs and it's paid separately from the chat license, regardless of the amount of paid agents that you have in JivoChat.


---
Create your Edna account and connect it to JivoChat to receive and answer messages sent by your visitors on WhatsApp directly from JivoChat. This integration also allows you to add a WhatsApp communication option in the JivoChat mobile widget so that your visitors can choose to start a conversation with you directly from WhatsApp.
To integrate your WhatsApp Business API on JivoChat via our partner Edna, there are a few steps you'll have to follow. Let's check them in details below:
Step 1. Registration of an Edna account
If you decide to connect WhatsApp via our Edna partner, you will need to create an account from their website. Please access this link and create an account.
NOTE: after registration, it may take up to 2 weeks to activate your account, edna team will contact you via email
Step 2. Registration and verification of your company on Facebook
You need to complete this procedure to create a WhatsApp Business API account. Your manager at Edna will guide you through the entire process. The purpose of this article part is to explain the actions you will need to perform. If you have already registered and verified your account, you can immediately proceed to step 3.
A Facebook Business account is required to create a WhatsApp Business API account. To do this, register your account on the Facebook Business Manager.
After registering your account, you need to verify your account. To do this, go to Facebook Business Manager -> Business info section: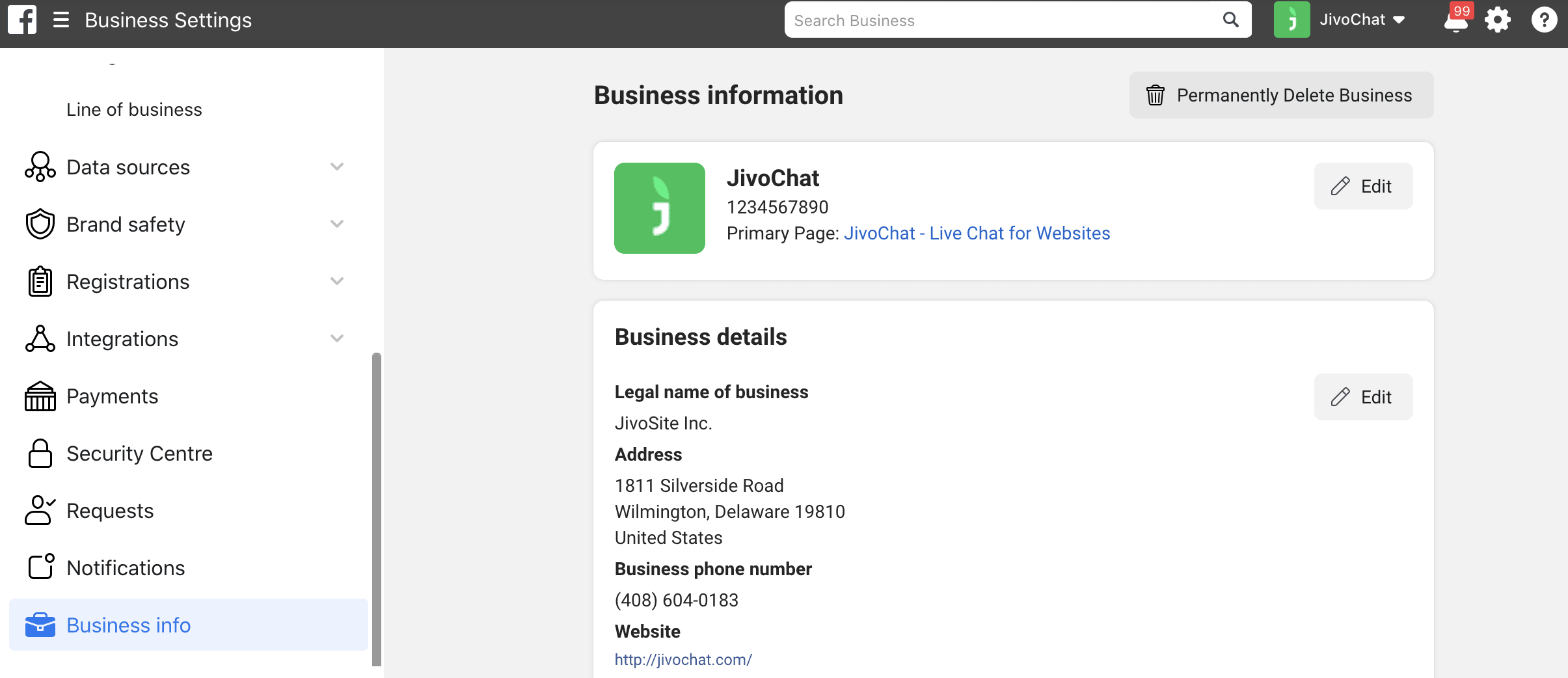 Check if the "Business verification status" field is already showing a "Verified" status or not.
If the status is unverified, you'll need to go through the verification process in the Security Center section: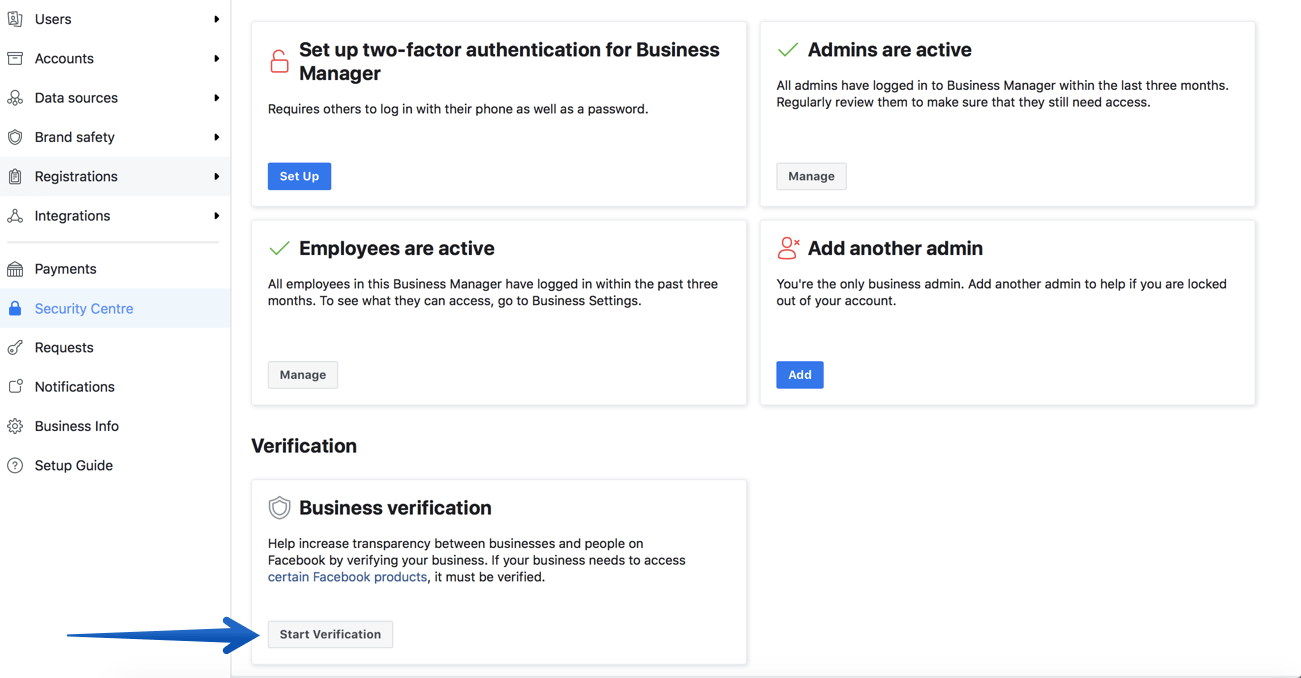 For the verification process, you'll need to fill out several forms and upload documents confirming the data from your company.
After that, the verification can be done via a call to your company's number or via a code that is sent to an email from your company (please note that the domain of the email address must match the company domain informed in the form fields).
Don't worry if there are any difficulties during the verification process. Contact your Edna manager and they will help you complete the process.
Step 3. Connect Edna on JivoChat
Once the account has been registered with Edna after step 2, you can connect it to JivoChat.
To do that, access your JivoChat web app or any of our Desktop apps and go to Manage -> Channels -> WhatsApp 3rd-party providers.
Click to Connect the account to JivoChat in the Edna column.
On the connection screen, provide the following data:
-Channel name: The name that will be displayed in the list of connected integrations. Any name will suffice;
-The phone number for your WhatsApp Business API account: Your approved WhatsApp Business API phone number registered on Edna;
-Assign all agents to this channel: If you checkmark this option, all agents in the account will be assigned to the channel and will be able to receive and answer messages coming from the WhatsApp Business channel. If you uncheck this, only the main admin of the account will be assigned to the channel. You can easily assign/un-assign agents to this channel in the future following this tutorial here.
Once you're done, click Create channel.
Congratulations! Now your WhatsApp Business channel is successfully connected and you will receive incoming messages from WhatsApp in the same way as other communication channels in JivoChat.
We hope this article was useful and we wish you a very productive day!
Ask in the live chat, we are ready to help around the clock