How to find and use your referral link
This tutorial will help you to find and use your referral link.
Finding your referral link
Step 1. Go to the Affiliate Panel
Step 2. Enter your email and password, then click on Login.
Step 3. Click on Referral link.
Step 4. Copy your Referral link.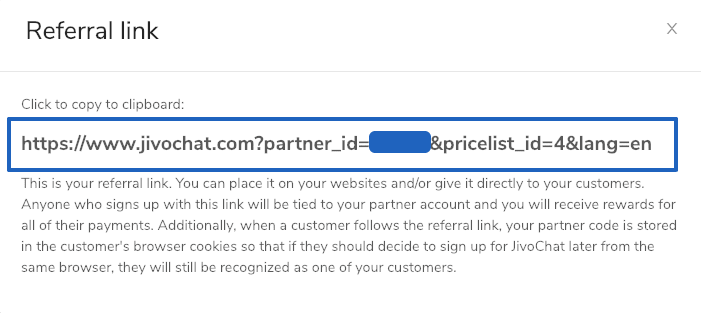 This is your referral link, it has your unique affiliate ID. You can share it with your clients, friends and family. Whenever a client visits our website using your link, a cookie with your affiliate id is saved in the browser. If the client decides to sign up to JivoChat, they will be added as a new client to your affiliate account and you will receive 30% on every payment they make.
Using your referral link
Quick tip 1. How to share your referral link
There are many efficient ways you can share your referral link and increase your earnings. Write an article with relevant content and use your referral link on it, create Facebook Ads, E-mail Marketing, Webinars.
You can create an article on your personal experience using JivoChat or on how to improve the conversions on a website using JivoChat, for example.
Quick tip 2. How to use your referral link to add new clients to your account
To add new clients to your affiliate account using your referral link, just copy the link, open a new tab then paste the link into the new tab.
Click on "Sign up free" and create your client's account by following the instructions available in this tutorial: How to get started with JivoChat
Check our articles on our Knowledge base to learn how to customize the chat design and behaviour, and help your clients to create a unique version of the widget based on their needs.
Ask in the live chat, we are ready to help around the clock